Post from guest blogger, Jenny Arthur BA (Hons) MSc RNutr, Nutrition and Marketing Consultant.
There has been a lot in the press recently about how many portions of fruit and vegetables we really should be eating. The latest data shows just over 30% of adults are eating their 5 a day and amongst teenagers it's only about 10%, in other words we could do better.
If there is one step you take towards making your diet healthier, make it fruit and veg as it's a big step! Fruit and vegetables are the powerhouses of the diet, containing a wide variety of vitamins, minerals, fibre and phytonutrients which help to combat the onset of diseases like coronary heart disease and cancers and optimise health.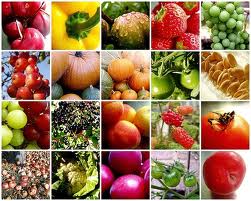 Dispelling some myths:
One portion is 80g for an adult and 50g to 60g for children aged 4 to 11, think palm of your hand! If you fill the palm of your hand with fruit or vegetables then that is the right portion size. Fresh vegetables are great if they are eaten near the time they are picked, which in most cases is not always possible, especially if they have been flown half way round the world and have been lurking for a week or so in your fridge! The nutrient content will be next to nothing. This is where frozen and canned fruit and vegetables come into their own as a handy nutrient rich alternative. Remember the Bird's eye slogan picked and frozen in 2 and 1/2 hours! Also fruit and veggies eaten as part of a meal also count towards your 5 a day.
Handy tip: Always look for locally sourced seasonal fruit and vegetables, they will be cheaper and contain more vitamins and minerals; and try and buy fresh fruit and vegetables on a more regular basis.
Frozen fruit and vegetables are as good as fresh and not a poor relation. I love the Bird's Eye pouches of veggies (not again I hear you cry!)… See my twitter page @JennyANutrition for details, freezer to plate in about 2 minutes. Making vegetables less of a faff and easy to put into the kids tea. The frozen food people this week have been up in arms as they have been tarred with the same brush as fruit canned in syrup, which is not counted as a portion of fruit, owing to the sugar content of the syrup.
Canned fruit in juice can count as a portion, but not canned in light syrup or syrup.
Vegetables canned in water are also a good substitute for fresh as long as no salt has been added.
Dried fruit – a yes, it is a portable and a convenient snack; again it is about the portion size… a handful!
Beans and pulses only count as one portion regardless of how much you eat as they are rich in fibre but contain fewer vitamins and minerals than other fruit and veg.
Potatoes don't count; this is the source of much confusion. Potatoes on the Eat well plate, which shows the foods that make up a healthy balanced diet, are in the starchy carbohydrate section as these are eaten in place of bread, rice or pasta. Potatoes are a good source of energy and fibre, plus contain B vitamins and potassium. They are one of my unsung superheroes!
One 150ml serving of fruit juice (a small glass) counts as only one of your 5 a day, as the amount of fibre compared with whole fruit has been reduced owing to the processing; and the sugars have been released, which may cause tooth decay. For kids fruit juice should be watered down to about 50:50 or less. Adults as well would benefit from watering down their juice. This then limits the amount of sugar from fruit juice being consumed.
If you have any specific questions drop me a line…
Visit Jenny Arthur's website for information on nutrition and market trends, nutrition and health strategy, product and recipe development, and consumer communications.
---