See why scientists and students worldwide rely on FSTA for their research
FSTA® is the key database for faculty, students, and industry scientists conducting research in the sciences of food and health.
Interdisciplinary content, from nutrition to biotechnology
In-depth keyword indexing using the most comprehensive food thesaurus in the world
Reliable results that are always directly relevant to food and beverages
Complete the short form to request trial access for your university or company.
---
"FSTA is a key resource that we would recommend to other companies. As the focus is on food science, there is less 'noise' for the scientist to filter out…"
R&D Manager, International Food Manufacturer, UK
Still not sure? Read more customer reviews
---
WHAT HAPPENS NOW?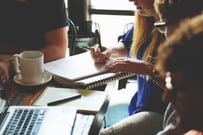 We will be in touch to co-ordinate setting up a trial for your institution.
Once your trial request is accepted and your access has begun, we are available if you would like support to help you make the most of the database trial, such as promotional material and training.
---
YOU'RE IN CONTROL OF YOUR DATA
By submitting this form, you are opting to be contacted regarding your free trial request.
As FSTA is accessed through third party platforms (e.g. EBSCOhost, Ovid and Web of Science), your data may be shared with the third party in order for them to set up your trial access.
We will only send you marketing emails (such as about FSTA developments) if you opt in to receive these.
There is a preferences link at the bottom of each marketing email we send, which you can use to unsubscribe, change the frequency or which emails you receive. Alternatively, contact us directly and we will be happy to help.
More details are available on our Privacy Statement.