Bioactive compounds in sea cucumbers could protect people from Type 2 diabetes, a new research study finds.
Researchers from the University of South Australia have analysed sea cucumbers, or Holothuria scabra Jaegar 1833, to evaluate the inhibitory properties of protein-bound advanced glycation end products (AGEs). The study furthers understanding of the part the marine animal extracts play in lowering the onset of diabetes.
"There is limited scientific evidence on novel compounds derived from animal sources," Dr Permal Deo, Senior Lecturer of UniSA Clinical & Health Sciences at the University of South Australia, told IFIS Publishing.
Nutrition and health benefits
Sea cucumbers are a type of marine animal associated with various health benefits. They are considered nutritious due to their protein, vitamin and mineral content. Popular in Asia as a delicacy, manufacturers are exploring sea cucumbers' potential as a food source.
The research team analysed sea cucumber extracts and collagen for inhibitory properties of protein-bound advanced glycation end products (AGEs). The researcher's laboratory focuses on biologically active novel compounds in medicinal plants and foods as potential therapeutic agents to prevent diabetes and related complications.
Type 2 diabetes is the most common type of diabetes and is present when your blood glucose level, also known as blood sugar, is too high. AGEs are prominent in the vascular complications of diabetes, which scientists have cited as the "most serious manifestations of the disease".
AGEs are proteins or lipids that become glycated following exposure to sugars. High levels of these biologically active components can lead to diabetic complications, such as heart disease, kidney disease, cancer, Alzheimer's and Parkinson's.
The study, published in the International Journal of Food Science and Technology, gives researchers and the food industry a better understanding of these bioactive compounds in sea cucumbers. The researchers conclude: "The results support that H. scabra [sea cucumber] could be a promising source of natural antioxidant and antiglycation agent and there is potential for the isolated bioactive compounds in this species to be developed as a functional food product."
Limited knowledge of inhibitory properties
As previous studies have reported anti-inflammatory and antioxidant properties from sea cucumbers, the researchers sought to further this understanding by exploring the role of sea cucumber extracts against diabetic-related biomarkers, including AGEs.
Current understanding of their inhibitory properties is lacking as they are unexplored.
The scientists focused on extracts and collagens from sea cucumbers that undergo traditional preparation. They found that processed dried sea cucumber with salt extracts and collagen can significantly inhibit AGEs by lowering a range of sugar-related metabolites in the body. As a result, sea cucumber extracts may have potential therapeutic agents in inhibiting AGEs that would ultimately reduce the risk of diabetes.
The hallmarks of these inhibitory properties include how and where the sea cucumber has been sourced, the variety of sea cucumber used and its preparation methods. The researchers used Holothuria scabra, which is sustainably sourced from Fiji Islands, Deo states.
These properties influence the sea cucumbers' extracts and collagens. Other varieties of sea cucumber need to be tested and trialled before the researchers can determine which ones potentially contain therapeutic agents. In addition, the preparation method may influence the sea cucumbers' beneficial properties.
More value-added products
The study's results indicate that the phenolic and antioxidant activities within the sea cucumbers' extracts and collagens offer antiglycation potential, preventing the proteins and sugars from binding together.
The processed dried method with salt extracts demonstrated the most significant inhibition in forming the protein-bound fluorescent and non-fluorescent AGEs. The researchers state that this indicates
Due to their natural antioxidant status and role as an antiglycation agent, sea cucumber's isolated bioactive compounds may have potential as a food source. Therefore, there may be opportunities for manufacturers to explore sea cucumbers as a functional food product.
"Food industries could see this as an opportunity to develop value-added products, including extracts and powder forms of sea cucumbers," says Deo, commenting on the study's potential impact on the food industry.
---
Editorial notes
Source: Interview with Dr Permal Deo, Senior Lecturer of UniSA Clinical & Health Sciences, University of South Australia
---
Researching sea cucumbers in the FSTA database
While always relevant to food, FSTA is highly interdisciplinary. The majority of sea cucumber research indexed in FSTA is health-focused. Looking at the FSTA index terms we have assigned to records from our unique thesaurus, some of the most common research topics are polysaccharides, proteins, physical properties, temperature, human physiology, antioxidative activity, diseases, amino acids and cell culture.
The first article we indexed on sea cucumbers was 'Freezing preservation of fresh sea cucumber' in Refrigeration back in 1975.
The number of records indexed each year has grown steadily since then, especially from 2015 onwards. As of 31 July 2023, there are 1,111 records on sea cucumbers in FSTA. 1,039 of these are journal articles, 36 are patents, 30 are review articles , and the remaining records are books, theses and one standard. The IFIS science team selects and indexes new research and information from the >1,500 serial sources currently being monitored.
Each year from 2020 onwards, the research has been synthesised into 3 or more reviews indexed in FSTA. These spiked in 2022 with 8 reviews indexed in the database.
The top five journals in terms of the number of articles on sea cucumbers are:
Food Chemistry (published by Elsevier)

Journal of the Chinese Institute of Food Science and Technology (published by CIFST)

Food & Function (published by Royal Society of Chemistry)

Food Science, China (published by China Food Publishing Co.)

Science and Technology of Food and Industry (managed by China National Light Industry Council and sponsored by Beijing Industrial Technology Research Institute Co., Ltd).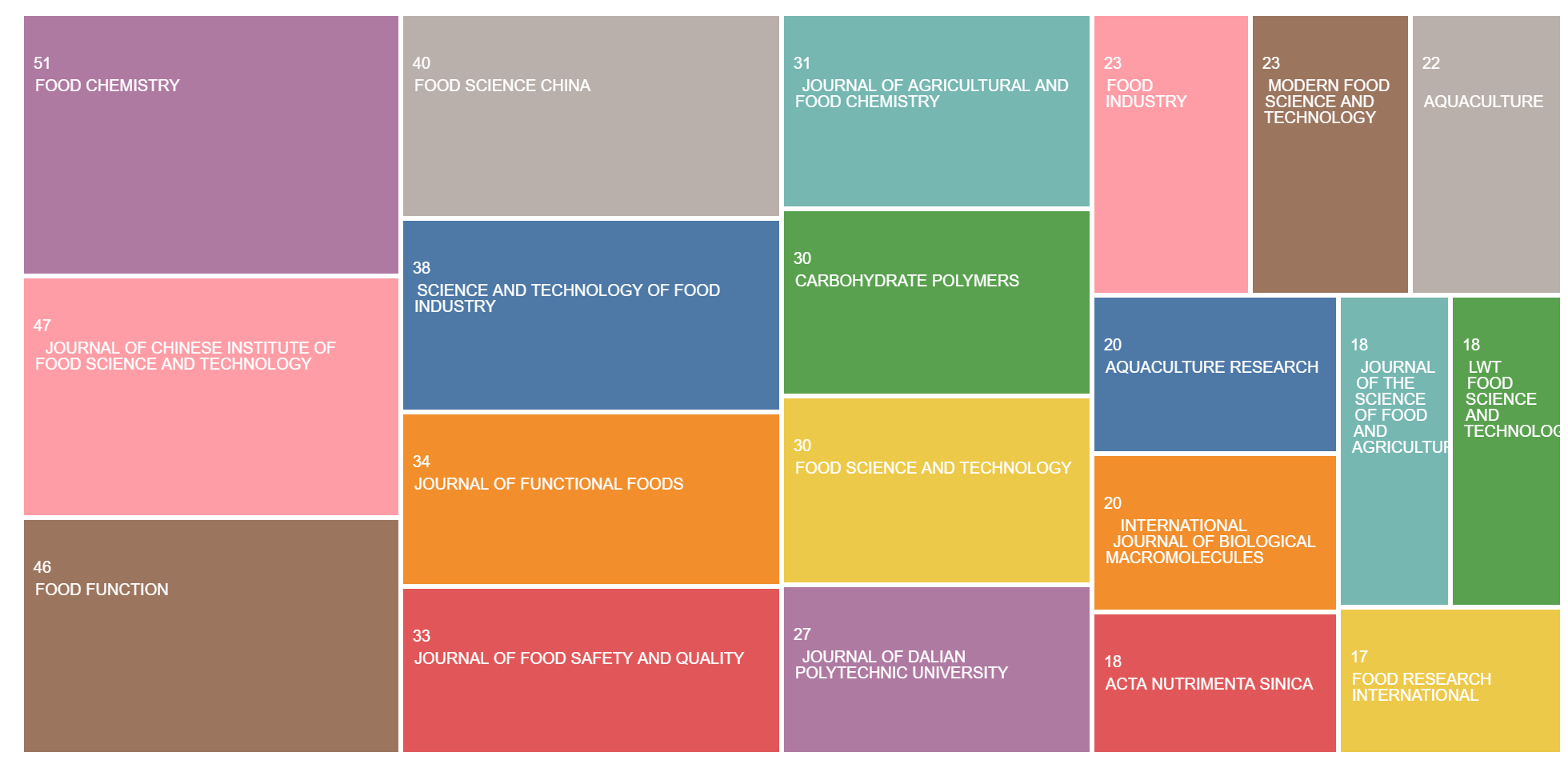 Image sources:
- Sea cucumber image by 3dan3 from Getty Images
- Analyse Results tool when searching FSTA on Web of Science, Clarivate
---