The term "clean label" refers to a conceptual blueprint of commercial food contents that are viewed by consumers as "healthy" and free from artificial additives or preservatives. When it comes to food labelling, "clean" is not a legal requirement but rather a level of standard that is increasingly adopted by the food industry in response to consumer's demand for healthier food products. It is therefore, understood differently based on what "healthy" means to different consumers and how it is interpreted for different food products. This article looks at the use of term "clean label" in current scientific literature relevant to bakery products and snack foods to better understand what it means.
"Clean label does not necessarily mean safer. For example, the use of natural extracts to avoid synthetic colours and flavours does not make the product safer because the natural extracts have not been as extensively tested as their synthetic counterparts."
- Dr Kantha Shelke, Senior Lecturer, John Hopkins University
The drive behind the concept
The main consumer drive behind the "clean label" movement is the perceived health and wellbeing. From a consumer's perspective, it concerns long listings of ingredients that are intentionally added to food products for preservation or processing which otherwise are not expected to be there. From an industry's perspective, consumers are also led by a sense of fear or uncertainty about technical terms of food ingredients that they are not familiar with or cannot link them to a known source they might use in their own kitchen. For example, E-numbers, the legal names given to food additives, are often perceived negatively by consumers. In other words, misconceptions are caused by a gap in understanding between what legal labelling requirements the industry needs to adhere to and how easy to understand some of these technical or chemical names are for the consumers.

Relevant terms from scientific literature
Despite the lack of a legal definition or a single agreement about the meaning, the use of term "clean label" is increasingly growing in scientific literature to communicate relevant aspects of the concept. Some of the most widely used or associated terms within the concept are "healthy", "natural", "free from additives or preservatives" and "non-artificial". These terms are better known and frequently used within the concept of clean label for different food products. Other terms like organic and non-GMOs might be viewed as relevant in more recent discussions of the topic. Specific terms, however, might be relevant for certain food commodities or categories such as "gluten free", "dairy free", and "free from allergens".
"The lack of legal definition is a major issue for those in the product development and manufacturing world because "clean is in the eyes of the beholder" and what may "clean label" in one sector may not be so in another food sector."
- Dr Kantha Shelke, Senior Lecturer, John Hopkins University
Relevant terms in bakery products and snack foods
A current overview of two hundred research articles published between 1991 to 2020, searched within the FSTA index for the topic of bakery products and snacks for example, found the following terms frequently associated with the concept, either positively or negatively:
FSTA Subject Heading
Clean label (negative)
Clean label (positive)

BAKERY PRODUCTS

BAKERY PRODUCT MIXES

SNACK FOODS

synthetic, artificial, processed, artificial additives, chlorinated flour, emulsifiers

"better for you", natural antifungals, free from additives, essential oils, bio preservative, gluten free formulations, naturalness, dairy-free, plant-based ingredients/colourant/ proteins, plant extracts, botanical origin, biocolourant, all natural, natural sugar substitute, ascorbic acid-free bread wheat flour, novel products/processing, natural flavours, artisanal, natural ingredients, "organic suitable", native, next-generation, naturally sourced, naturally preserved, natural hydrocolloids, natural stabiliser, natural antioxidants, sucrose reduced, low sugar, rice starch
Looking a closer look at what contexts these terms are used for, suggests plant-based ingredients have been increasingly researched for their applications in clean labelling over the last 10 years. The most general term, however, was "free from" which is often followed by a specific term that is to be avoided, for example, "free from additives" or "free from preservatives". In a broader sense, the most frequently used terms tended to be "healthy" and "natural".
Some of the examples for more technical terms are the followings:
FSTA Subject Headings
Clean label (negative)
Clean label (positive)

BAKERY PRODUCTS

BAKERY PRODUCT MIXES

SNACK FOODS

550 wheat flour, polyglycerol ester [PGE], propylene glycol monoester [PGME], titanium dioxide

non-PHO, PHO alternatives, Transglutaminase [TG], alpha-linoleic acid
These examples only go to show that the difficulty in understanding the labels may apply to both ends of the spectrum. Even if the content or productions of food products are optimised, the technical language used on the labels still can make health-conscious consumers feel uncertain about their choices. According to Dr. Kantha Shelke, a senior expert in the field, most consumers are not aware of the difference between food grade and industrial grade chemicals which makes consumers even question their safety.

A single definition? A legal definition?
The concept of "clean label" appears to be a live phenomenon becoming broader in meaning as people perceptions' of food products and their standards change over time. This might mean more or new terms will be emerging as research continues to develop and meet clean label demands of the future. However, what does not seem to have changed is the demand for food products that are good for human health with less change in their original contents in terms of ingredients and structure. The more difficult challenge of the concept is how to decipher consumers' misconceptions caused by technical and unfamiliar chemical names. In other words, the method of communicating food contents with consumers might need changing; can food labels be made free from doubt?
---
References (all accessible through FSTA)
Anon (1991) Market review food additives buyers brace for changes. CPI, 1, 95-97.

Anon (2016). Salty snacks: Europeans want them free from additives. Food Marketing & Technology. 30 (6): 18-19.

Barston N. (2019). Driving growth in natural ingredients. Confectionery Production. 85 (3): 25-26.

Hartman L. R. (2015). Riding the free-from movement. Food Processing. 76 (6): 41-42.

Shelke K. (2020). World of gums and fibers. Prepared Foods. 189 (5): 46-48.

Vierhile T. (2019). Better (for you) baking. Prepared Foods. 188 (7): 14-17.



Author

Dr Mina Kalantar, Ph.D., is an independent consultant who provides advice for academic researchers, publishers and regulatory professionals in food analytics and safety. Dr Kalantar is also a content developer of food science and health research with expertise in concept analysis and literature review.
There are more than 1000 records focusing on the clean label concept in FSTA since 2016. These records are derived from over 200 different sources, with key trade and academic titles examining developments in this area being: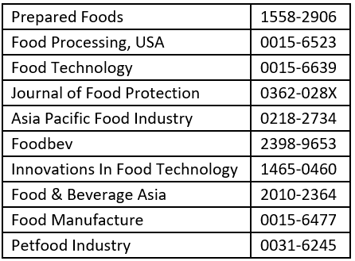 IFIS blog posts related to this topic:
Header image by Dose Juice on Unsplash
---