Every day, millions of people put a lot of trust in the food industry. More and more of us check product labels on a regular basis to make sure what we are buying meets our individual requirements – be they for low fat foods, sugarless concoctions, organically certified foods, clean label products or anything else. And when we buy a food product, we expect it to contain what it says it does on the label.
For anyone with a food allergy, checking the ingredients list is especially important – one bite of the wrong ingredient and an allergy sufferer could be on their way to a severe or even life-threatening allergic reaction. So if an allergenic ingredient that is not declared on the label accidentally – or intentionally – makes its way into a food product, not only are consumers deceived, but some are also put at serious risk.
Unfortunately, though, a number of spices have been subject to this precise problem several times over the past few years, with undeclared nuts being the offender.
Following the horsemeat scandal of 2013, food fraud had already become a concern for consumers, with many losing their trust in the food industry. Unsurprisingly, these incidents of nuts being found in spices have not helped wary consumers regain their trust.
High value food commodities, and those with complex supply chains, are considered to be particularly vulnerable to food fraud – and herbs and spices, it seems, fit these characteristics disconcertingly well.
Peanut protein found in cumin in the USA
The problem first came to light in the USA, where, at the end of 2014, tests started to expose undeclared peanut protein in products containing cumin, prompting a series of recalls. Cumin is a very widely used spice, found in a huge number of food products.
According to a study published in the Journal of Agricultural and Food Chemistry, since at the end of 2014 over 675 products have been recalled in the USA due to the presence of undeclared peanut attributed to cumin used in the products.
A list of product recalls on the FDA's website highlights just how wide the variety of products affected has been. Not only has the problem affected products like ground cumin and seasoning mixes, as might be expected, it has also affected some processed products in which cumin is a less obvious ingredient - parmesan croutons and a kale and quinoa soufflé, for example.
It is not clear whether any of the cumin found to contain peanut protein was deliberately adulterated or if its presence was accidental. However, that has not stopped some people from speculating that the problem may have stemmed from a poor cumin harvest in India.
The state of Gujarat in India apparently produces around three quarters of the world's supply of cumin. However, soaring temperatures are said to have halved the yield of the crop compared to the previous year, sending prices spiralling upwards. This, it has been claimed, may have led some deceitful traders to add cheaper ingredients to the product to boost profits.
Detection of almond in cumin in the UK
It is not just in the USA where the adulteration of spices with nuts has been a concern. Following the detection of the undeclared peanut protein in ground cumin and products containing it in the USA and Canada, the FSA initiated a sampling programme here in the UK.
Although none of the products recalled in the USA and Canada were distributed in the UK, the FSA began testing cumin sold in the UK as a precaution. The sampling programme involved testing batches of ground cumin and cumin seeds sold in supermarkets, grocery shops and wholesalers across the UK, as well as in consignments inspected at ports. At the time this information was published in an FSA alert, peanut proteins had not been detected in any of the tests at levels that would require allergen labelling.
Initial tests did, however, indicate the presence of traces of almond protein that were not listed on the label in a batch of ground cumin sold by the Barts Ingredients Company, triggering an alert to be issued in January 2015. This recall on the Barts ground cumin was later rescinded after additional testing carried out by the Laboratory of the Government Chemist (LGC) showed that it was a spice called mahaleb that was present in the cumin, rather than almond as was originally thought.
Like almond, mahaleb belongs to the Prunus genus of the Rosaseae plant family, and the two species have unusually high similarities in their DNA and proteins, making it very difficult to tell them apart in spices.
Unlike almond, however, mahaleb is not one of the 14 allergens identified in food allergen legislation. Of course, this doesn't change the fact that it shouldn't have been there – it was, after all an undeclared ingredient. But while deceptive, the lack of danger to allergy sufferers may at least have been a bit of a relief to some.
Other recalls on spice-containing foods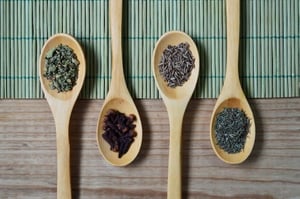 While it turned out that almonds were not present in the cumin sold by Barts Ingredients, the presence of nuts has been identified in other spice products sold in the UK. Another allergy alert was issued following evidence that a batch of paprika was the most likely source of undeclared almond protein in three recalled food products - two supermarket own-brand fajita meal kits, and a batch of taco seasoning.
All three products used a spice mix supplied by Santa Maria UK Ltd. Investigations indicated that it was this spice mix that contained the undeclared almond protein, with the paprika in the spice mix shown to be the most likely culprit. And this time, there was no evidence of cross-reactivity due to mahaleb.
Further products containing paprika that had been adulterated with almonds were also recalled in Norway, Sweden and Denmark – they, too, had been supplied by Santa Maria. Meanwhile, in Belgium, possible traces of peanut protein were reported to have been found in a number of cayenne pepper products.
Take your information searches to the next level with FSTA, the database designed specifically for research on the sciences of food and health. Learn more.
Methods for identifying the presence of nuts in spices
The instance of mahaleb being mistaken for almond in the cumin samples highlights the need for appropriate and accurate testing methods for detecting contaminants and adulterants in spices. Fortunately, since this mix up, the ability for mahaleb and almond to be distinguished has been improved. LGC has now developed what is thought to be the world's first DNA test for mahaleb and discovered subtle mass spectrometry differences, enabling scientists to differentiate between almond and mahaleb proteins.
ELISA methods were used to detect almond and peanut proteins in many of the cumin-containing products that were recalled in early 2014 in the USA. While these methods seem to have been successful in detecting these nut proteins, it has been noted that it is difficult to detect multiple allergens in foods using ELISA methods, particularly when homologous proteins are present that may cross-react with the anti-bodies used in the ELISAs.
For this reason, research has been carried out to develop a rapid, high-throughput multiplex method to simultaneously detect and quantify food allergens and gluten. The method involved conjugating established antibodies used in the detection of food allergens to paramagnetic, colour-coded beads to generate 2 multi-analyte profiling (xMAP) assays, designed to detect non-denatured and denatured food allergen proteins.
By comparing the intensities of responses generated by cumin with the 30 antibodies included in the assays, analysed cumin samples were shown to contain either a mixture of undeclared allergens (peanut, almond, Brazil nut, cashew, coconut, hazelnut, macadamia and pistachio) or a novel cross-reactive protein. The assay, it is claimed, makes it possible to analyse 48 samples in 1 day for the presence of 14 food allergens and gluten, which would otherwise take over a month using standard ELISA technology, while also making it possible, without the use of expensive equipment, to identify the presence of novel cross-reactive proteins.
In another study, it was noted that although initial analyses detected the presence of peanut in cumin, and suggested the presence of almond, subsequent research indicated that the analytical results for the cumin samples were not fully explained by the presence of peanut and almond.
This study confirmed the presence of peanut using a combination of mass spectrometry, DNA-based methods, including PCR and Sanger DNA sequencing, microscopy, and antibody-based technologies, including ELISA, western blot analysis and an xMAP multiplex assay, while screening for secondary sources of adulteration, including tree nuts, mahleb, peach and cherry, supported an assessment that the cumin contained multiple contaminants. These results, it was concluded, demonstrated the limitations of single analyte-specific assays as well as the need for orthogonal multiplex methods to detect food allergens irrespective of varietal or other differences.
Detection of other adulterants in spices
While the discovery of nuts in spices has caused a bit of a stir over the past few years, they are far from the only unwanted contaminant to have been found lurking in spices.
Sudan dyes, including Sudan I, which is banned in many countries, and along with Sudan III and IV is classed as a category 3 carcinogen, have made several unwanted appearances in various spices, including chilli, paprika and turmeric, where they are added to enhance the spice's colour.
Thankfully, a variety of analytical techniques have been developed to help keep their presence in check. In one study, an extraction method was developed and LC-DAD and LC-MS/MS methods were examined for their effectiveness and limitations in identifying adulterated samples of chilli spices and palm oil.
In another, a biosensor combining molecularly imprinted polymers, thin layer chromatography and surface enhanced Raman spectroscopy was developed to determine Sudan I levels in paprika powder, while in another a screening method based on constant-wavelength synchronous fluorescence spectroscopy with multivariate classification was proposed for determining the adulteration of mild, hot and smoked paprika varieties with Sudan I dye.
An HPTLC-MS based method was developed in yet another study for the detection of Sudan dyes in turmeric and chili powdered spices, while the feasibility of using near infrared and Raman spectroscopic techniques to detect Sudan I dye in chilli powders was investigated in another, and the list goes on.
Saffron, a notoriously expensive spice, has likewise been plagued by unwelcome additions, including safflower, dyed corn stigmas, turmeric, gardenia, and a number of other plant species. As with Sudan dyes, several methods have been developed to help prevent its adulteration, including a detection method using an electronic nose, a 1H NMR metabolite fingerprinting method, a genetic technique based on Sequence-Characterized Amplified Regions (SCAR) markers, and another multiplex PCR-based technique using both SCAR and ITS markers.
Other adulterants found in spices have included cassava starch, wheat, barley, rye and the closely related Curcuma zedoaria in turmeric (Curcuma longa) powder, rhodamine B in dry and ground chilli, and chilli in black pepper powder, while Cinnamomum cassia and Cinnamomum malabatrum have been found posing as true cinnamon (Cinnamomum verum), and horseradish and mustard have been used to try to fool people into thinking they are eating wasabi.
Yet more allergens in yet more foods
And while nuts and other adulterants have been found in spices on several occasions, they are not the only type of food to have suffered from the addition of undeclared allergens. A look at the FSA's allergy alert news page reveals that, among others, recent alerts have been issued for undeclared milk in an egg salad sandwich, undeclared peanuts in a roasted millet snack bar, undeclared mustard in a cheese and tomato pasta dish, and sesame in some salted rice cakes.
For allergy sufferers, the presence of undeclared ingredients makes buying foods a minefield, and for anyone else who likes to know what they're eating it may be a real worry. It has been postulated that this kind of food fraud may be becoming increasingly common in the global food supply chain - but let's hope that the ongoing development of novel detection methods can help prevent this from happening.
Related Posts:

Introduce eggs and peanuts early in infants' diets to reduce the risk of allergies

Colouring Foods – Naturally Brightening Up Food

Is Food Labelling the Best Communication Tool for Protecting Consumers?
(Image Credits: stock.tookapic.com, Unsplash, Miguel Á. Padriñán, via www.pexels.com)
---
IFIS are passionate about food science. To receive our monthly Thought for Food blog posts, subscribe:
---