There has been a significant amount of change in libraries in recent years. Once quiet and austere, many libraries have become bustling community centers where talking out loud and even eating are perfectly acceptable.
The Boston Public Library, founded in 1848, is the oldest public urban library in the United States, and has wholeheartedly embraced this new era of reimagined library spaces. With a major renovation underway, the Copley Square institution is breaking out of its granite shell to show an airier, more welcoming side to the passing crowds. Interior plans include new retail space, a section dedicated to teenagers - Teen Central, and a high-stool bar where library patrons can bring their laptops, tablets and similar and look out over Boylston Street.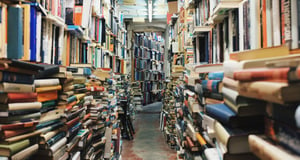 Amy Ryan, President of the library, said: 'You'll be able to sit here and work and see the world go by. We're turning ourselves outward.'
Many predicted the digital age would bring about the steady demise of physical libraries. 'Just the opposite', said Susan Benton, President and Chief Executive of the Urban Libraries Council. 'Physical visits and virtual visits are off the charts.'
At Boston's Central Library alone, the number of physical visits jumped to 1.72 million in 2013, up by almost half a million from 2012.
Library usage has increased across the country for a variety of reasons, librarians say, including the recession, the availability of new technology and because libraries have been reimagining themselves — a necessity for staying relevant as budgets are slashed and ebooks are on the rise.
Among the more innovative is the Chicago Public Library, which offers a free Maker Lab, with access to 3D printers, laser cutters and milling machines. The Lopez Island Library in Washington State offers musical instruments for checkout. In upstate New York, the Library Farm in Cicero, part of the Northern Onondaga Public Library, lends out plots of land on which patrons can learn organic growing practices.
Along with their new offerings, libraries are presenting a dramatically more open face to the outside world, using lots of glass, providing comfortable seating, as much for collaborative work as solitary pursuits, and allowing food and drink.
'This is what's happening at a lot of libraries, the creation of an open, physical environment', said Joe Murphy, a librarian and library futures consultant based in Reno, Nevada. 'The idea of being inviting isn't just to boost attendance but to maximize people's creativity.'
Libraries have long facilitated the 'finding' of information, he said. 'Now they are facilitating the creating of information.'
Boston Library's Teen Central will embody this data creation ethos and is to become what is known as 'homago' space - where teenagers can 'hang out, mess around and geek out.' It will include lounges, restaurant booths, game rooms and digital labs, as well as software and equipment to record music and create comic books. The aesthetic will be that of an industrial loft, with exposed pipes and polished concrete floors, what Amy Ryan calls 'eco-urban chic.'
'The sand is shifting under our business', she said. 'When I started out in the '70s, you would walk up to the reference desk and ask a question and I would find an answer. Today it's the opposite. People turn to librarians to help them sift through the 10 million answers they find on the Internet. We're more like navigators.'
At least the Boston library will still feature books. One library, in San Antonio, has done away with them. The BiblioTech is nothing but rows of computers, e-readers and an iPad bar.
(Image Credit: Glen Noble at www.unsplash.com)
---