Global food production has more than doubled over the past fifty years due to, among other things, improved methods in breeding and raising livestock, the use of highly developed seed varieties and crop protection practices that markedly increase crop yields and quality.
Mass production of packaged food has been enabled by technological innovations in food production, effective investment in logistics and efficient processing, with packaging playing a important role. The vast economies of scale involved and the energetic industrial competition have made many products increasingly within the means of a very large number of potential shoppers.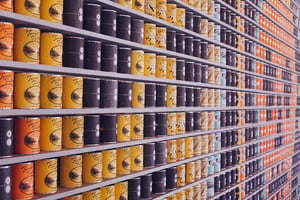 Consumer demand for pre-packaged food continues to intensify in advanced economies and an ever-growing global populace is also ramping up the demand. This is also true of newly industrialised countries experiencing rapid and aggressive urbanisation.
Despite its critics, and there are plenty, it can be argued that packaging actively promotes the preservation of the world's resources through the reduction of product spoilage and wastage. Packaging must contain, preserve food and inform the user, therefore, food waste may be minimised and the health of the consumer protected.
Furthermore, packaging, combined with developments in food science, processing and preservation techniques, have been put into use to ensure the continued quality of the product through its lifecycle and the safety of the consumer. As a crude measure, the continued success and advances, in both packaging and food technology, is confirmed by the very fact that the contents of billions of packages are being safely consumed every day.
(Image Credit: PublicDomainArchive via www.pixabay.com)
---