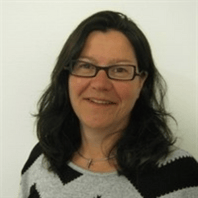 In the second interview in our series with our board members, we speak to Dr Elke Scholten about her work. Dr Scholten is Associate Professor at Wageningen University in the Netherlands and a member of the FSTA Faculty Advisory Board at IFIS.
---
Tell us a little bit about what you do. What does an average working week look like for you?
I work as Associate Professor in the group Physics and Physical Chemistry at Wageningen University. Part of my time I spend on education, and part of my time on research. For education, I teach several MSc courses in the program "Food Technology", and supervise both BSc and MSc students for their 4–6 month thesis period. One of my courses is taken by >300 students, and includes an extensive practical part. In terms of research, I supervise an average of 10 PhD students on several topics. This also includes discussion meetings with scientific partners (both academic and commercial), and formulating new scientific proposals and ideas.
I enjoy working with ambitious young people, and it brings me pleasure to be part of their scientific development to become independent and critical researchers. On average, I see all PhD students (and thesis students) once a week to discuss their progress, ideas, etc. Most of my PhD students are part of larger projects, so they can also learn from each other. I find it important to connect well with PhD students and work as a team, and therefore I also organize some social activities to create a nice working environment.
Besides education and research, I also have a lot of other activities; I'm an associate editor for Food & Function, on the editorial board of several other journals (Food Hydrocolloids, Food Structure, Current Research in Food Science, Colloid & Interface Science Communications), and committee member of several conferences (Food Colloids, ISFRS, and ESM). And I regularly visit other universities for invited talks, PhD defences, etc. So my work week is a collection of a lot of different activities, which is also why I love my work. It is always diverse, challenging, and never becomes boring.
Tell us about some of the projects that you're working on currently
My research area is around textural properties of foods. With my research, we try to answer questions on how different (novel) ingredients can be used to change the structural organization of different food types, such as emulsions and gels. And we focus on how the structural organization is responsible for the textural and sensorial properties of such foods. So my research tries to couple changes that happen on a microscopic scale to properties that express themselves on a macroscopic scale.
To learn more about the structural composition of foods, we use a variety of techniques, such as different microscopy techniques (SEM, TEM, CLSM), light scattering, NMR, X-ray Tomography, X-ray diffraction, neutron scattering (with experts in the field), etc. To measure macroscopic properties, we focus on rheology and tribology, where we also do method development to be able to measure frictional properties closer to in-mouth conditions. We then try to relate these measurable parameters to the sensory experience during consumption. In terms of food products, we focus on foods that are composed of multiple phases, such as chocolate, ice cream, meat analogues, (vegan) cheese, nutritional beverages, etc., for which we try to unravel important physical phenomena important for their textural properties. For many projects, we use plant-based material to help in the transition towards a more plant-based diet. This also involves the development of alternatives for animal-based butter by structuring oils with proteins (oleogels).
Some examples of work done in the last year include the following projects.
To link the structure of chocolate to the rheological properties, we have looked at the effect of particles in chocolate. We have determined what the most optimal particle composition is to have good flowability of chocolate (https://pubs.rsc.org/en/content/articlelanding/2020/fo/d0fo01655a).
Similarly, we have unravelled how fat plays a role in the textural and melting properties in ice cream (https://www.sciencedirect.com/science/article/pii/S0963996922007670), which is now being used to develop strategies for fat reduction in ice cream.
We are also focusing on sugar-reduction strategies by determining the exact role of sugar on different textural properties of ice cream. To do this, we try to change only one structural element at a time, which is challenging as these structures are all related to each other. But by understanding which structures are responsible for a certain textural characteristic, we are able to come up with good reformulation strategies using alternative ingredients. Many of those ingredients are plant-based.
An example in which we also use plant-based materials is in vegan cheese, in which we looked at how a combination of starch and protein lead to different textural characteristics. We have determined that the water distribution in such systems is very important, which we have measured with a simple microscopy technique (https://www.sciencedirect.com/science/article/pii/S0268005X22004623). This type of information is also helpful for the development of different types of plant-based foods.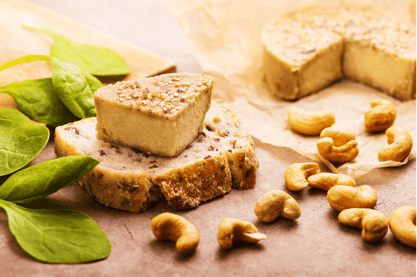 To develop a replacement for animal-based fats based solely on plant materials, we focus on making a solid version of sunflower oil (also known as oleogels) with the help of plant proteins. Here, we have shown that different types of plant proteins, such as potato, soy and pea, can be used to structure oil (https://www.sciencedirect.com/science/article/pii/S0268005X22003411). These structured oils may find application in many fat-containing products, such as bakery products and meat analogues.
To understand how different ingredients, and combination of ingredients, influence tribological properties, i.e. friction, we have investigated a variety of different systems (emulsions, suspensions). We have identified how a variety of characteristics influence friction, such as the stability of emulsion droplets, the size and softness of particles, and the specific structure of polysaccharides (https://www.sciencedirect.com/science/article/pii/S0144861722009055 and https://www.sciencedirect.com/science/article/pii/S0963996922002666).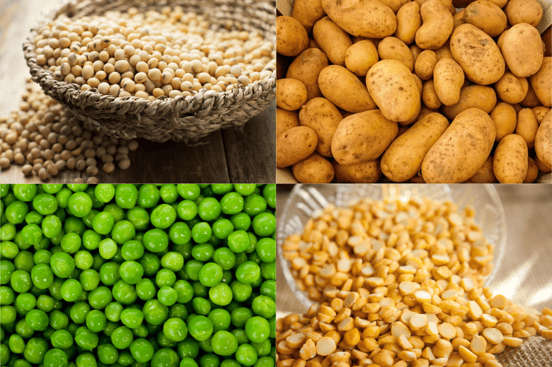 To understand how these characteristics contribute to friction, we have investigated which lubrication mechanisms are responsible for this, and how these mechanisms are influenced by specific surface and particle properties (https://www.sciencedirect.com/science/article/pii/S0301679X22002675).
What do you enjoy most about your role?
There are several factors that I enjoy about my work. I like to contribute to the development of young researchers by educating and challenging them. It is great to see how MSc and PhD students grow, and that they transform into independent scientists. I enjoy all the scientific discussions that I have with them, and these conversations also teach me a lot of things along the way. It is really great to see that PhD students are proud of their PhD thesis and their publications, and that I was part of shaping their scientific career. But I also really love meeting great scientists from all over the world by going to conferences, and by providing a platform to bring them together by organizing conferences myself. It gives an opportunity to discuss a broad area of research and common interests.
Wageningen University, Netherlands
As a Board Member on FSTA's Editorial Advisory Board, can you tell us why accepting this role appealed to you?
With the overwhelming amount of information on social media, it becomes more difficult to find trustworthy data and the information that you need. FSTA offers a database specifically focused on the area of food science, which enables more efficient searches on specific food topics, and therefore the database is also supported by our University (WUR). As I support this mission, I accepted the role in the hope that I will be able to contribute to this.
What is something that excites you about the future of food research?
What excites me about the field of food science is to really understand complex systems, and how different physical phenomena drive certain changes in food. I really like to understand how a change in ingredients influences all the different aspects of foods and how they are linked to each other. This is challenging, as real foods are comprised of fats, proteins and polysaccharides, and the interactions between them affect the properties of food at different length scales. However, a better understanding of how these changes are connected to each other gives the opportunity to come up with novel strategies for food reformulation, and to provide foods with novel textures. So it really requires different types of knowledge and creativity. Although I really like to understand things better, it is also important that it is connected to real applications. As the food industry faces a lot of challenges to redesign their foods, the food area is an exciting area where we also need more understanding to be able to meet demands from both consumers and governmental agencies.
What is the biggest challenge that food and nutrition science research faces?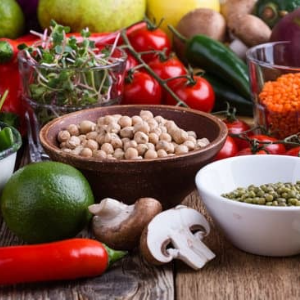 At the moment, I think our biggest challenge is to develop more plant-based foods to increase diversity in our food supply and decrease the need for animal-derived ingredients and foods. However, this is a challenge as most animal proteins and fats have unique properties and therefore cannot be easily replaced. It requires new strategies and techniques to produce plant-based foods that are equally liked as foods containing animal-based ingredients. However, such challenges also come with unique opportunities where innovative ideas are needed and can move this field forward. To do this, we may also need a broader perspective and multi-disciplinary research, including scientists more related to food processing, human nutrition, microbiologists, sociologists, etc. It is important to understand how we can make new foods, but also to understand what such foods do in terms of health, and how we can stimulate people to choose a certain dietary pattern.
Is there any research or product where you think "I wish I had done that"

?
This is a difficult question, but I don't think there is anything that I would really have liked to do. I really love my own research area, so I get excited enough by my own work. But if I would have to choose one food item, then I wish I would have invented the "Ben and Jerry" ice creams. I think the combination of different flavours and textures is really smart.
What tip or recommendation would you give to anyone starting out on their food science career?
If you start a PhD, choose a topic that you really like, as you have to work on it for quite some time. And only do a PhD if you really like science, not just because you think it will get you a better job later on in life. I think it is important to do what gives you pleasure. But even when you work on one specific topic, also mingle with people that work on other scientific topics, because you can learn a lot from discussing other research areas as well. The area of food science is moving more and more towards interdisciplinary science, so a broad insight is always welcome.
Whether you want to have a career in industry or academia, try to create a wide network, so you have people around you that know you, and can eventually also help you at different stages in your career. Different types of social skills are as important as scientific skills, so try to develop different skills early in your career and not only on scientific content.
Finally, thinking creatively, if you could create any food or drink ingredient or product, what would it be?
Well, I think that a major problem in our society is the great number of overweight and obese people. So I think it would be great to invent an ingredient that provides all the structural properties needed for a food and provides all nutritional components for a healthy lifestyle, but not contribute to any calorie uptake. However, I'm afraid that this is wishful thinking, and may only happen in a fairy tale.
---