Literature searching can be a frustrating experience. It's easy to be overwhelmed by the amount of information available, and yet hard to find relevant reliable information to support your research needs.
You will be aware of the potential impact of missing relevant research, including wasted time, wasted investment and even risks to consumers.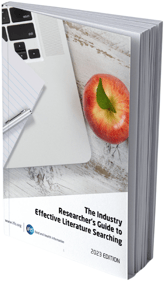 Whether you need information to:
Develop new products

Track trends

Maximise nutritional benefits

Improve sensory, mechanical and/or functional properties

or for something else, you need the information you base your decisions on to be up-to-date and trustworthy.
Through explanatory notes and practical, step-by-step guidance, we aim to help you understand how to effectively plan and carry out your literature searches. This guide will teach you how to design a search that captures all the literature you need, then leverage that search to continue delivering the updates you need.
This guide is also available to read on LibGuides.
This guide is designed specifically for researchers working in industry. For guidance optimised for academic researchers and students, take a look at our Literature Searching Best Practice Guide.
Contents of the guide
About this guide
The Search Process
Steps for a literature search
1. Where to search
Where to search
Databases
Search engines
Academic search engines
Researcher platforms
Wikipedia
2. How to build a search
Process for creating a search strategy
Good search strategy
Identifying search concepts
Search matrix
Boolean operators
Phrase and proximity searching
Truncation and wildcards
Saved searches and alerts
3. Paper acquisition
Screening results
Getting full text for free
Copyright considerations
4. Critical appraisal
What is critical appraisal?
Practicing critical appraisal
Evidence hierarchies
Additional critical appraisal checklists
Documenting critical appraisal decisions
5. Managing references
Benefits of citation managers
Citation managers and writing
Sharing PDFs
Comparing software
6. Additional resources
Best practice recommendations
Templates

Other training resources