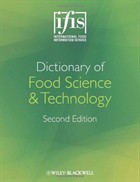 In association with Wiley-Blackwell, we produce the highly respected Dictionary of Food Science & Technology, now in its second edition.
The dictionary pulls together the extensive data held and maintained by IFIS into an easy-to-use, rigorously edited and cross-referenced resource.
Edited by our in-house scientists, the dictionary:
Contains 8,612 entries, including 763 new entries and over 1,500 revised entries from the first edition
Includes local names, synonyms and Latin names
Features extensive cross-referencing
Visit the Wiley-Blackwell website to read customer reviews and place your order.