See below for answers to frequently asked questions about Escalex.
If your query is not answered below, please get in touch through the chat box or contact us form.
A visual overview of the main categories and documents in Escalex, for the selected country, enabling you to see:
How the country selected publishes their law
The key areas governed by food law in the country
A list of the information sources from which the regulatory content has been captured
The most frequently cross-referenced documents
You can explore deep-indexed content to find answers to regulatory queries
This search lens is ideal for users with existing knowledge of food law categorisation and specific legal terms.
Turn the 'facts' button on to see a pre-defined list of sub-areas under each topic
Facts off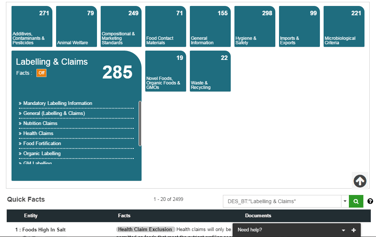 Facts on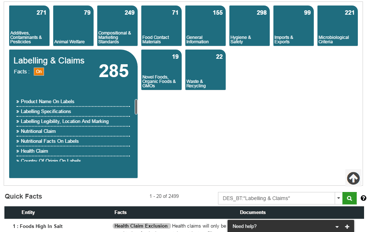 The Limits function presents information to users in a friendly tabulated format, making it quick and easy to access information on residue limits and permissible limits.
Additives
Contaminants
Nutrients
Pesticides
You can use the simple search bar to search by substance. Open up the advanced search to add a commodity to the search, and maximise your search.
This contains definitions of commodities and food substances, as described by the sources for that country/region.
Ideal for commodity-focused queries, this section contains a complete list of regulatory and guidance documents for the selected country, which you can browse or search.
Use the free text box to search by:
Keywords for food, feed products and food substance identifiers (e.g. E-Number or functional class)
Document titles
Document numbers
Click on the arrow to open the advanced search box.
You can use the logos to expand your existing search, without having to start again.