Complementing our comprehensive best practice guide, our e-learning resource course is designed to help students and researchers to understand how to effectively plan and carry out literature searches.
This interactive course is built around a core of necessary key research skills, such as defining your research question and creating a search strategy, and includes six short quizzes for self-assessment.
Use the form to choose which option you would like us to send you:
If you would like to take the e-learning module online as an individual user, we will send you a link to register free
If you would like to incorporate the module into your own learning management system (LMS) at your university, we will send you the SCORM 1.2 package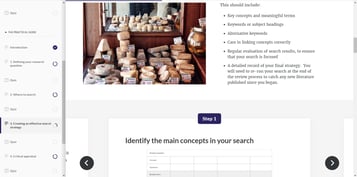 If and when we publish an updated version of the SCORM package, we will share this with you by email using the address provided, if you have opted into communications relating to the e-learning course.
---
Join our online community
In addition, you can follow us on social media for news and research articles across the food communities, along with updates about IFIS Publishing and our products.